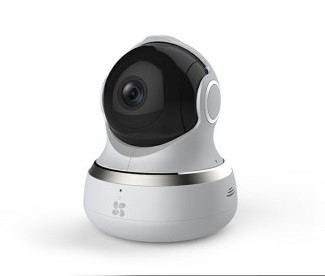 With every public space, apartments, stores and offices having cctv camera, it is easy to feel that we live in a place where cctv camera video surveillance is prevalent. This largely covers the area outside, but have you thought of cameras inside your house? Why do I need cameras inside my house ? How will wifi security camera help me ? Do I need to spend a lot of time to get them installed? Is the footage secured ? Cost ? If these are the questions in your mind too, read below to get all your answers
1. Need to greet someone at the door
To this end, you almost always want a doorbell cam with a button, visitors can press. The camera may provide facial recognition, which can even be used to unlock the door for known parties if also paired with a smart lock. These doorbell cameras or front-door cameras always post an alert on your smartphone or another device when they see a face, allow two-way audio communication, and show (often with a fish-eye lens) the entire area around the door.
2. Need to monitor what's happening inside your house
This kind of monitoring can be creepy, but in the appropriate situation, it can be helpful or even provide necessary insight. If you have employees (like a nanny) or contractors in your house, you may want a camera both to tune in live or to review video to check  if someone does something wrong and tries to hide it. (They may want it, too, to prove they didn't do anything wrong.) The presence of a camera might deter improper actions, too.
3. Need to monitor activities in front of your house
For contractor work, the coming and going of people to a porch, and even checking up on kids playing in the front lawn, an indoor camera mounted directly onto a window will do the work.
4. Need to communicate with people inside your house
Most indoor cctv camera include two-way audio, like an intercom. You want a glass of water, or speak to your child who is attending online class, quick communication to inhouse contractors even when you are outside the house, these wifi security camera will help do the job with a simple application on your mobile phone.
5. Plug and play cctv camera
Once configured with your Wifi, these cctv camera are plug-able anywhere in the range. Having at home and using it for any one of the reasons mentioned above is worth the investment.
The most distinct advantage provided by wireless cctv camera is the fact that the technology does not include cables. On the other hand, the the installation of wireless camera is incredibly easy, requires very little time, and allows you to angle the cameras in any direction you choose.
Apart from being password protected, wireless security systems use top-rate encryption techniques for the digital data, which makes your video feed completely safe.
To sum up our analysis, it would be a worthwhile investment to have a in-home wifi security camera to protect you near and dear apart from your belongings. Various brands are available, but go for a brand that has a very good after sales support, like Hikvision. Other local products are also available which may be cheaper but are known to have security issues leaving your video feeds vulnerable to prying eyes.
We would love to hear your feedback or comments, please feel free to comment on our blog…