Investing in a quality CCTV security camera system is not only an integral part of the security systems but also help provide with a Hawkeye about the activities that are taking place outside or inside. They can easily capture important event footage, break-ins and perhaps offer you great comfort at workplace or at home while your pets and kids are home alone. 
Surveillance being a booming industry, there are more than 100 known brands of CCTV capturing the market, along with intensive white labelling that has further added to the numbers in a big way! So the questions that commonly arise are : What are the most popular CCTV brands in India? How do I find out if the brand offered by my systems integrator is the right one? What are the disadvantages if I get any brand/white labelled surveillance system? This blog is an attempt to answer some of these questions.
Most Popular CCTV Brands In India
Below is the graphical representation of the most popular CCTV brands in India. This popularity is just a representation of anonymous statistical data gathered and does not necessarily indicate the best CCTV cameras or the best security camera brand.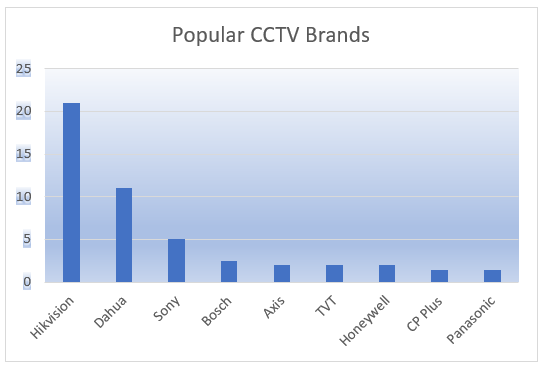 Disclaimer: Huge efforts are made to present recent and accurate information. This is completely internal data and the use of information given is strictly at the user's risk. Security360 Solutions disclaims any kind warranties included in any materials. All trademarks belong to their respective owners.
With more than 20 years of experience, Hikvision is one of the Worlds Largest suppliers of CCTV products. "See a new life" – the tagline of Hikvision truly means so because they make the best quality CCTV cameras whose lenses are far more proficient than any other. Hikvision cameras features dynamic zoom capability along with a diverse series of economical dome IP cameras to high-performance PTZ cameras, Alarms, Intercoms, Access Control, Storage.

Pros:
Good value for money,
Generalized products,
Friendly user Interface
Cons: Little costly


Dahua is one of the World's leading CCTV service providers with an experience of more than 20 years in this field. Dahua's core video surveillance product line, including network cameras, NVRs, alarms, intercoms, storage and HD over coax is used across different sectors. They provide different features like low light recording.

Pros:
High-quality products,
Very reliable,
Wide product range,
Cons:
Can't get instant service,
Lack of technical support

Sony is an old name known to most of us but the security products with Sony is comparatively newer. Sony does not manufacture its security products in India however it sells the same to consumers through its set of partners. It specializes in Wireless cameras, IP security cameras, 4K security cameras in addition to other network solutions.

Pros: Good quality,
Low fault rate,
Featured products
Cons: Premium pricing,
High maintenance cost


If you are looking for some real world-class security products then the famed Bosch is the name you want to turn to. The company brings to consumers a wide range of alarm systems, conference systems, access control and security cameras amongst others.

Pros: High quality,
Friendly user interface
Cons: Premium pricing,
High maintenance cost


With more than 3 decades of experience in the video surveillance field, Axis Communications is one of the world's leading CCTV manufacturers and service providers. They deal with access control systems, cameras, NVR, DVR, IP, Video analytics, and Fire alarms.

Pros: Very Reliable,
Friendly user interface,
Excellent customer Support
Cons: Highly premium pricing,
Low visibility in India


Established in 2004, TVT has made itself a bigger name in the field of video surveillance. TVT has been growing up as a total solution developer and manufacturer, offering unique products. TVT has a long history of owning integrated product lines including HD IP camera, HD coaxial camera, HD NVR, HD DVR and so on, providing system storing and controlling solutions.

Pros: Good technical support,
Less fault rate
Cons: Lack of product-range,
Low visibility in India


Honeywell Security Group is a leading global provider of access control, intruder detection, video surveillance and integrated security solutions for the commercial and residential markets. Their solutions range from IP and analogue cameras and domes, and digital and network video recorders, through to intelligent video analytics and sophisticated video management systems. Their cameras provide exceptional image clarity and definition whilst theit video systems allow easy migration from analogue to IP-based technology.

Pros: Good quality,
Reliable,
Good technical support,
Low fault rate
Cons: Low product range,
Not very popular,
Costly


CP PLUS is a popular and efficient security system operating since 2007. The company has established itself as a trusted name as a quality manufacturer of a wide variety of CCTV cameras and recorders. The brand features include Night Vision, Hidden, Zoom, HD, Wireless, Spy, Analogue, Software, Indoor, Outdoor, Bullet, and IP variants. Besides its security cameras, the company is also noted for its LCD, and HD monitors.

Pros: Popular Brand,
Wide product range,
Easily available,
Cost friendly
Cons: Less Reliable,
Unfriendly UI,
Lack of support


The portfolio includes a wide range of CCTV systems and different camera types, from IP and analogue cameras in box, bullet or dome versions, to PTZ types. As well as stand-alone analogue and IP recorders (DVR/NVR), encoders and coaxial converters – all for an easy migration from an analogue system or infrastructure to IP.

Pros: High quality,
Low fault rate,
Good technical support,
Featured products
Cons: High maintenance cost,
Premium pricing

Ways to identify branded Vs Unbranded CCTV Cameras
While it is difficult to find out if the given CCTV Brand is genuine or not just by the name, here are few simple tips to help you get an idea :
Google is (as usual 😊 ) one of your best help. Search for the brand in google and check their website. If you aren't able to find one, you have the answer!
If you find out the brand website, look for their service centre in India. The products come with 1 or 2 years warranty and should have a post sales support channel. For example brands like Hikvision make sure the support is done through their certified service integrators.
Get a sample camera box and check for sealed packaging. If you have a doubt, then the quality is definitely a question.
Look for BIS certificate number on the camera box. White labelled products do not have BIS certificate number.
Check for serial number and model number print on the box as well as the camera.
Things you might lose with unbranded/white labelled CCTV Systems
You may be able to get a desired output from the unknown camera brand or a white labelled. But does the same quality last long ? The answer is No. Below are the disadvantages for an unknown brand of installed cameras :
Number of LEDs in the camera might be less and hence the night vision of such cameras will not be up to the mark.
Even though the camera is a 2 MP or 5 MP, the actual output might be lesser than 2 MP or 5 MP. This is due to the quality of sensor and lens used inside the camera. To find this out, check the sample footage of another known camera brand and the one that has been suggested to you. There are lot of videos available online that can help clarify the same. Mark an object of similar size in both the camera footages and check on clarity.
Infrared lights might be of a lower quality, there is a possibility that such cameras can produce a grainy picture in the night. It is natural for the picture produced by your CCTV camera to be slightly grainy, but if it gets excessive, this could be a sign of a problem. Hence this needs to be checked.
Ask for the LUX at which the camera operated. This helps in determining minimum illumination (light) required to see the color image with clarity. Larger value indicates better clarity in low lighting condition.
Another thing to look for is a way you can keep your CCTV System up and running. Is there a way in which your repairs and maintenance can be handled ? Any customer service hotline, online ticketing or ways to register complaints ?
Needless to say, quality and post sales support are at the stake for unbranded CCTV products. Poor quality defeats the entire purpose of having CCTV system and the amount spent on CCTV system is not worthwhile if post sales support is not there. On the other hand, a branded system provides quality, consistency and trust and surely the only way to go!