Hikvision provide three different types of CCTV cameras which come with same model numbers. These different types of cameras are Regular, Eco and EcoLite models. While these cameras provide the same resolution and have the same model numbers, there is a difference in the pricing of all the three. Having the same configuration, lot of people unknowingly purchase the Eco or Ecolite model as it is lesser in price compared to Regular model. More so, since all the cameras have the same resolution(2 MP Hikvison camera), the type(Regular, Eco, Ecolite) for the same is overlooked. But before investing on a CCTV system and to make the image more worthwhile, it is very important to understand the difference among the three. A long term, high cost investment like CCTV should be more beneficial in case a real need arises and that can happen only if we select the products rightly. Hence, we did a detailed study to the level of checking the internal components of these cameras in our labs and below are our findings
Note : Details of ColorVu camera are already shared in our previous blog and is included here for completeness. For details on ColorVu camera checkout our blog here
How to identify Regular/Eco/EcoLite cameras
The first and the foremost question is that if all the three types have the same model numbers, how can they be identified ?
All the three different types of CCTV Cameras will have the same number but there will be a different suffix for Eco(IRP\Eco) and Ecolite(IP/Eco) cameras. Below are the existing Eco and EcoLite Hikvision CCTV cameras currently available:
Differences Between Regular Vs Eco Vs EcoLite Camera Types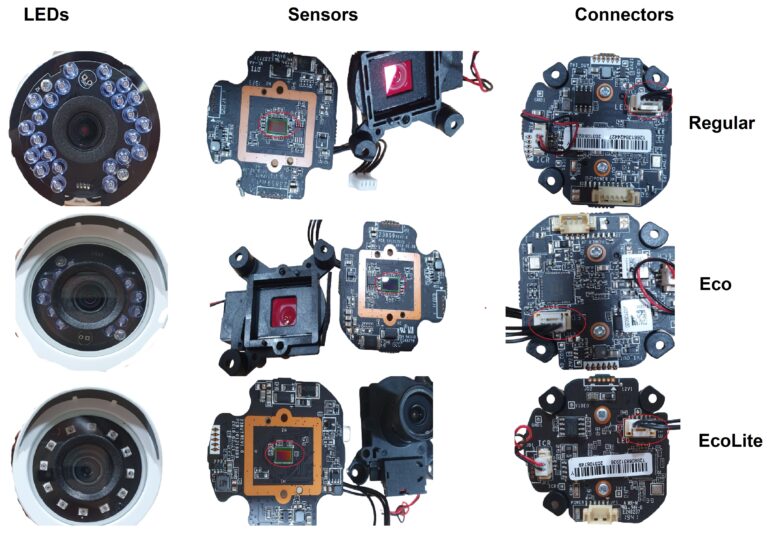 | | | | | |
| --- | --- | --- | --- | --- |
| | Infrared lights that switch on upon sensing the darkness | | | |
| | Internal component that helps determines how much light it uses to create an image. Bigger the sensor, more the light and better image clarity | | | |
| | Minimum illumination (light) required to see the color image with clarity. Larger value indicates better clarity in low lighting condition | | | |
| | Different technologies of CCTV | | | |
| | Product warranty provided by the manufacturer | | | |
| | Internal component that connects various chips inside the camera | | | |
| | | | | |
What should you buy:  Regular or Eco or EcoLite
If the budget allows, go in for Regular models only. They have two years warranty compared to others.
Eco and Eco Lite models do not perform up to the mark in zero lighting as the number of IR LEDs are less. Hence it is not much useful in zero or low lighting conditions specially in the night.
For internal use, where there is enough light throughout the day, Eco and EcoLite cameras can be used.
If the distance to be monitored is less than 5 meters, than Eco and EcoLite cameras can be used.
If your requirement is for the images that are close to real image, then Regular cameras are the only way to go.
If you have an existing CCTV system (DVR does not support HDTVI technology), Eco and EcoLite cameras will not work.
Watch the comparison video: Hikvision Regular Vs Eco Vs EcoLite Vs ColorVu CCTV Cameras